I'm sure that you are aware of the versatility of contemporary winter attire, including coats, parkas, and of course, down jackets. Among them, the latter have gained particular popularity due to their practicality, reasonable price, and stylish designs.
But what exactly is puffer jacket material, and how does it compare to other types of materials? In this article, I'm going to cover everything you need to know about puffer jacket materials, from the basics to the latest technologies. With this guide, you'll be able to find the best outerwear material that suits your needs and preferences.
Types of puffer jacket material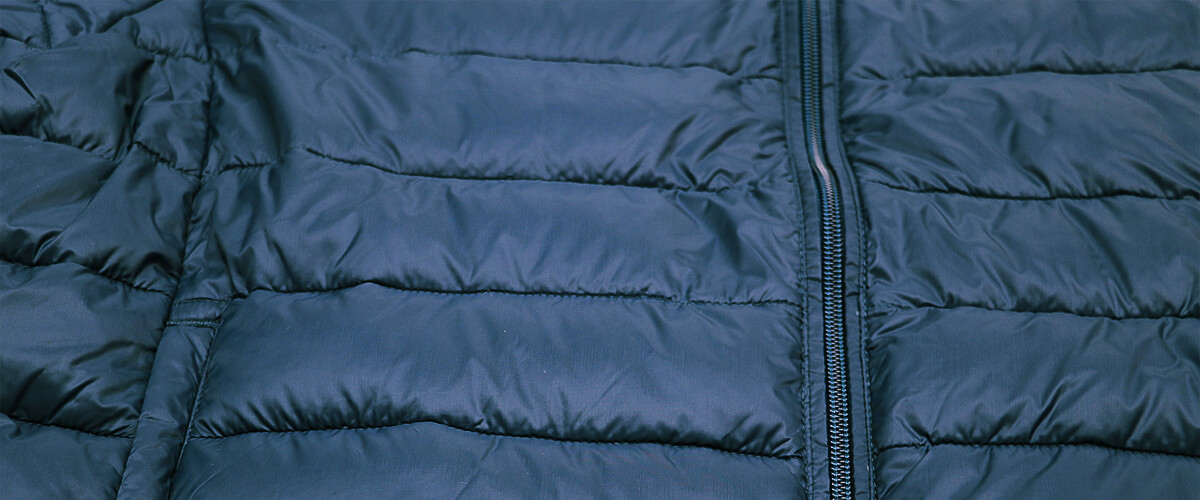 So, you're interested in puffer jackets and wondering what materials are available? Well, you're in luck because there are a few different options to choose from! Each type of material has its own unique set of characteristics, so let's take a closer look at the most common ones:
| Material | Main Features | Common Use |
| --- | --- | --- |
| Goose Down | High insulating properties, light and compressible, long-lasting | Outdoor activities, extreme weather |
| Duck Down | Affordable, good insulating properties, durable | Everyday wear, outdoor activities |
| Synthetic Insulation | Affordable, water-resistant, quick-drying | Everyday wear, outdoor activities |
| Down Alternative | Hypoallergenic, cruelty-free, affordable | Everyday wear, outdoor activities |
Goose down
If you're looking for the ultimate warmth and insulation, puffer jackets made of goose down are the way to go. It's super lightweight and compressible, which makes it easy to pack and travel with. Plus, it can last for many years with proper care. This material is often used in high-end outerwear designed for outdoor activities in extreme weather conditions.
However, it's worth noting that goose down can be expensive, so be prepared to pay a premium for a high-quality goose down puffer jacket.
Duck down
Duck down is another popular type of down used in puffer jackets. It's more affordable than goose down, but it still provides good insulation. Duck down clusters are smaller than goose down clusters, meaning they have less loft and are less efficient at trapping air. However, duck down is still a great choice for outerwear, especially if you're looking for a more budget-friendly option.
Additionally, duck down is more durable than goose down, which makes it a great choice for everyday wear and outdoor activities. Finally, puffer jackets made with duck down can be found at a more reasonable price point, making them accessible to a wider range of people.
Synthetic insulation
If you're on a budget or prefer animal-friendly options, synthetic insulation is a great alternative to down. It's made from polyester fibers that mimic the look and feel of natural down but without the hefty price tag.
The best part? It's water-resistant and quick-drying, so you can stay dry and warm during outdoor activities in wet conditions.
Outerwear made with synthetic insulation is also perfect for everyday wear and designed for outdoor activities. It may not compress as easily as natural down, but it's still lightweight and can provide good warmth in cold weather.
Down alternative
If you prefer not to use animal products, the down alternative is a cruelty-free and hypoallergenic option. It's more affordable than down and provides good insulation. You can find coats made with down alternatives suitable for everyday wear and outdoor activities.
Some popular examples of down alternatives include PrimaLoft, Thinsulate, and Tencel.
PrimaLoft is a synthetic insulation that is water resistant, lightweight, and quick-drying.
Thinsulate is a lightweight insulation made from synthetic fibers that provide excellent warmth.
Tencel is a natural and eco-friendly material made from eucalyptus wood pulp that is breathable and moisture-wicking.
Each down alternative has its own unique characteristics, so it's worth exploring different options to find the one that suits your needs.
Hybrid
Some coats use a combination of different materials to provide a balance of warmth, breathability, and water resistance. For example, hybrid puffer jackets may have a down or synthetic down filling with a fleece or waterproof outer layer. These coats can be versatile and functional for different types of outdoor activities.
Fleece
Looking for a budget-friendly and low-maintenance material for your outerwear? Fleece is a synthetic fabric used for puffer jackets. This material is made of polyester fibers, which makes it soft, lightweight, and cozy.
It is often used as an intermediate layer or coat lining to provide extra warmth and moisture-wicking properties. It's not as insulating as down or synthetic down, but it still gets the job done for everyday wear and outdoor activities in mild to moderate weather conditions.
Plus, fleece is a breeze to care for: just toss it in the washing machine and dryer without worrying about losing shape or softness.
Reflective
Reflective outerwear is a great choice for those who like to stay active even in low-light conditions. The reflective puffer jacket fabric is usually made of tiny glass beads or retro-reflective technology. The glass bead method involves placing small glass beads onto the surface of a fabric or coating, which reflects light back to its source.
Some common reflective materials used in jackets include:
3M Scotchlite;.
Nike Reflective;.
Albedo100 Reflective Spray.
They are especially popular for outdoor activities such as running, cycling, and hiking, where visibility is important for safety.
The importance of outer shell material in down jackets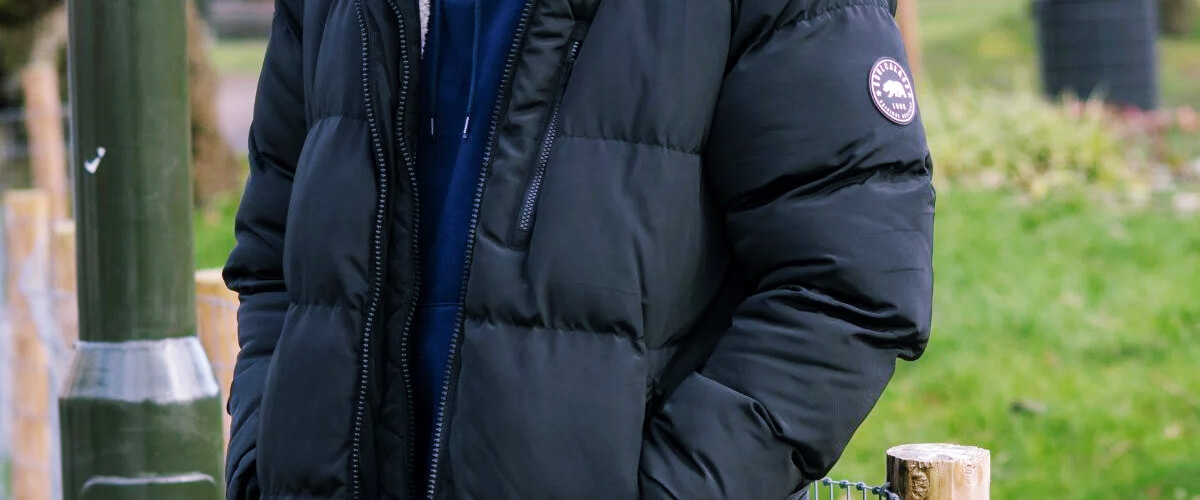 The outer winter jacket material plays a crucial role in its performance and durability. It not only protects the insulation inside but also determines the coat's water and wind resistance, breathability, weight, and overall durability.
Nylon
Nylon is a popular choice for the outer shell material of coats because of its durability, lightweight, and water-resistant properties. It is an excellent choice for outdoor activities and everyday wear as it can protect the insulation from moisture and wind, keeping the wearer warm and dry.
Nylon is also easy to clean and dries quickly, making it ideal for adventures where you might get wet or sweat. However, nylon is not as breathable as other materials, and in hot and humid weather, it may cause the wearer to feel uncomfortable.
Polyester
Polyester is another popular winter coat fabric used for the outer shell of down jackets. It is lightweight, durable, and water-resistant, making it an ideal choice for outdoor activities in all kinds of weather conditions.
Polyester is also easy to care for and can be machine washed and dried without losing shape or color. However, like nylon, it is not as breathable as other materials, which may cause you to feel hot and clammy in humid weather.
Gore-Tex
Gore-Tex is a high-performance waterproof, breathable membrane often used in the outer shells of down jackets designed for extreme weather conditions. It provides superior protection against rain, snow, and wind while still allowing sweat to escape, keeping the wearer dry and comfortable.
Gore-Tex is also very durable and can withstand harsh conditions and wear and tear, making it an ideal choice for outdoor activities like skiing, snowboarding, and mountaineering. However, Gore-Tex coats can be more expensive than those made with other materials, and they may not be as lightweight as nylon or polyester ones.
Other materials
Other fabrics, like cotton, wool, and sailcloth, can also serve as the outer layer of a down jacket. Although not as lightweight or water-resistant as nylon or Gore-Tex, these fabrics can add a distinctive flair to the coat's appearance.
Furthermore, some down jackets feature a blend of materials in their outer shell, such as a layer of nylon or Gore-Tex coupled with a warm wool or cotton lining. The array of fabrics employed in the outer shell of down jackets enables wearers to express their style while still benefiting from the coat's warmth and protection against the elements.
Puffer jackets are a popular choice for those looking for warmth and comfort in cold weather. With a variety of materials and styles available, there is a down jacket to suit everyone's needs and preferences. However, it's important to consider factors such as insulation, outer shell material, and care instructions to ensure the coat lasts for many winters to come.
FAQ
Can puffer jackets be worn in wet weather?
Yes, but it depends on the type of puffer jacket. Some puffer jackets are made with water-resistant or waterproof materials that can withstand light rain or snow, while others may not provide adequate protection in wet conditions.
How do I care for my puffer jacket?
Check the care label for specific instructions, but generally, coats should be washed in cold water on a gentle cycle and hung to dry.
Are puffer jackets suitable for extreme cold weather?
Puffer jackets can provide good insulation in cold weather, but whether they are suitable for extreme cold weather depends on the type and quality of insulation used in the coat.